We are excited to bring charities, scholars, businesses, artists to attend a series of panel discussions
on the importance of in Britain and the contributions made by British Muslims during this blessed month!
Join the UK's inaugural Welcome Ramadan Conference addressing a wide range of themes connected to the holy month of Ramadan!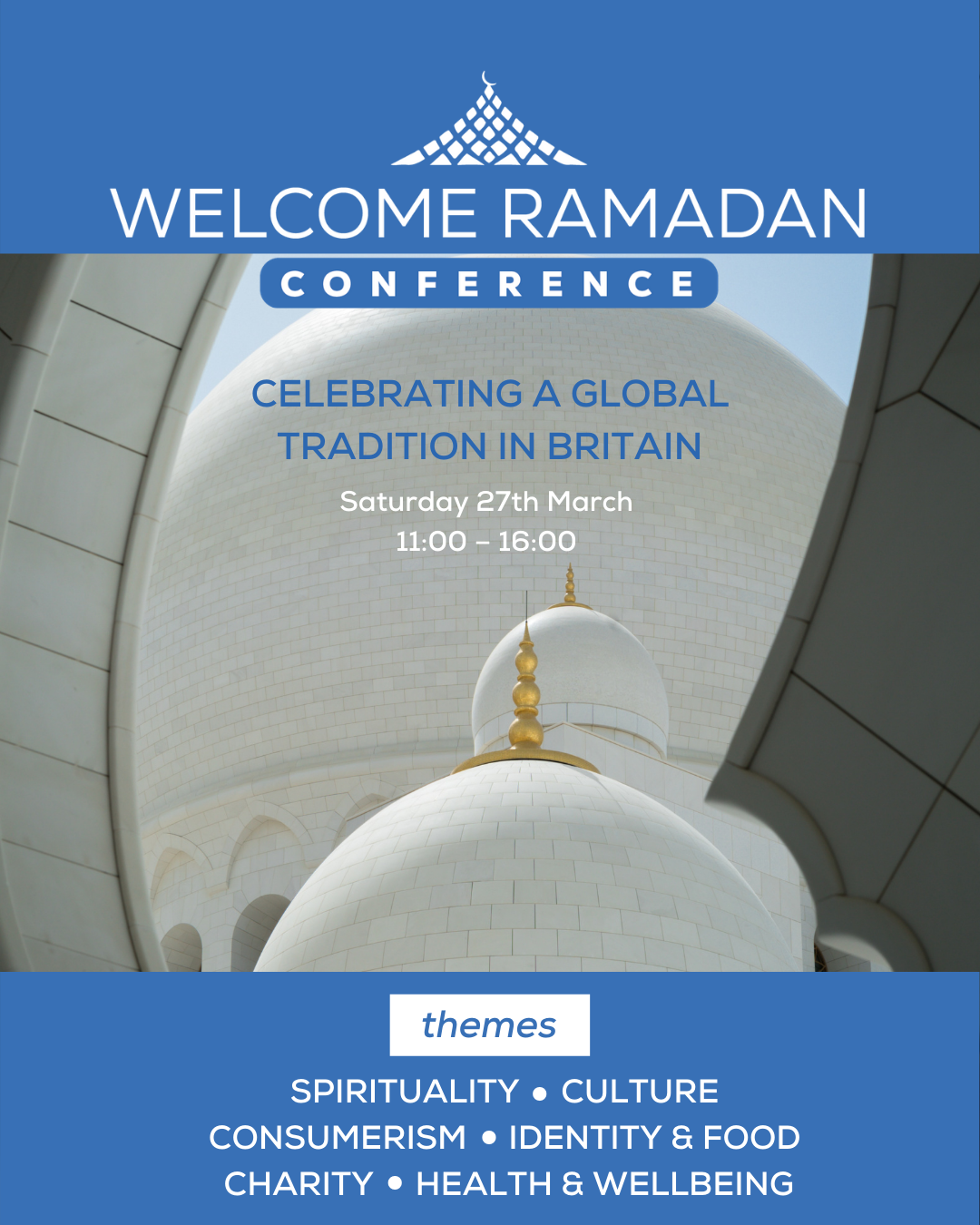 The month of Ramadan is the holiest month of the Islamic calendar and the month in which the Holy Qur'an was first revealed to Prophet Muhammad (PBUH). On this panel we will take a deeper look and understanding behind the act of fasting in Ramadan as a means of attaining mindfulness and a source of guidance for us all.
The Month of Spending: The Impact of the Ramadan Pound
Ramadan is the 3rd biggest economic occasion in the UK after Christmas and Easter. Muslims spend a significant amount of money during this month on food, gifts and even clothes in the lead up to Eid. This panel will bring together economic & financial experts to discuss the impact Ramadan & Muslims have on the British economy, our spending patterns and how we can think economically in preparation for and during Ramadan.
The Month of Self-Care: Health in the Holy Month
Ramadan is a month of rejuvenation, not just spiritually, but also physically and mentally. Whereas in the rest of the year we tend to get caught up in our routines, Ramadan teaches us to become mindful of our habits, address our shortcomings and renew our personal aims.
Joining us on this panel are sports, food, mental health & lifestyle experts who will discuss how to look after ourselves and promote self-care during Ramadan & maintain healthy routines beyond.
The Month of Culture: Global Stories of Ramadan
Observed by almost a quarter of the world, Ramadan is truly global! The month unites all Muslims across the world, regardless of language, race, age or background.
At the core of this is increasing love, compassion and understanding between all communities. ?
This panel will similarly unite inspiring individuals from around the globe who will discuss the power & impact of Ramadan in celebrating differences and building bridges!
The Month of Giving: Social Action and Charity
British Muslims give around £100million to charitable causes during Ramadan and British Muslims are the UK's most charitable faith group! Indeed, social justice is rooted in the Islamic tradition which emphasizes helping the disadvantaged through community work, charity and upholding justice. This panel unites leaders from charities and community organisations to discuss the role of #Ramadan in empowering communities and creating positive change.
The Month of Gathering: Food and Community
Food unites and brings people together and has the power to bring about social change. Food is also a great vehicle for sharing culture with people from different backgrounds. Breaking down barriers, building bridges and creating meaningful connections, whilst dispelling myths, challenging stereotypes and celebrating the diversity of our cultures and practice of Gastrodiplomacy. On this panel we take a look at what role does food have in shaping our Identity and whether we can we build communities with food.