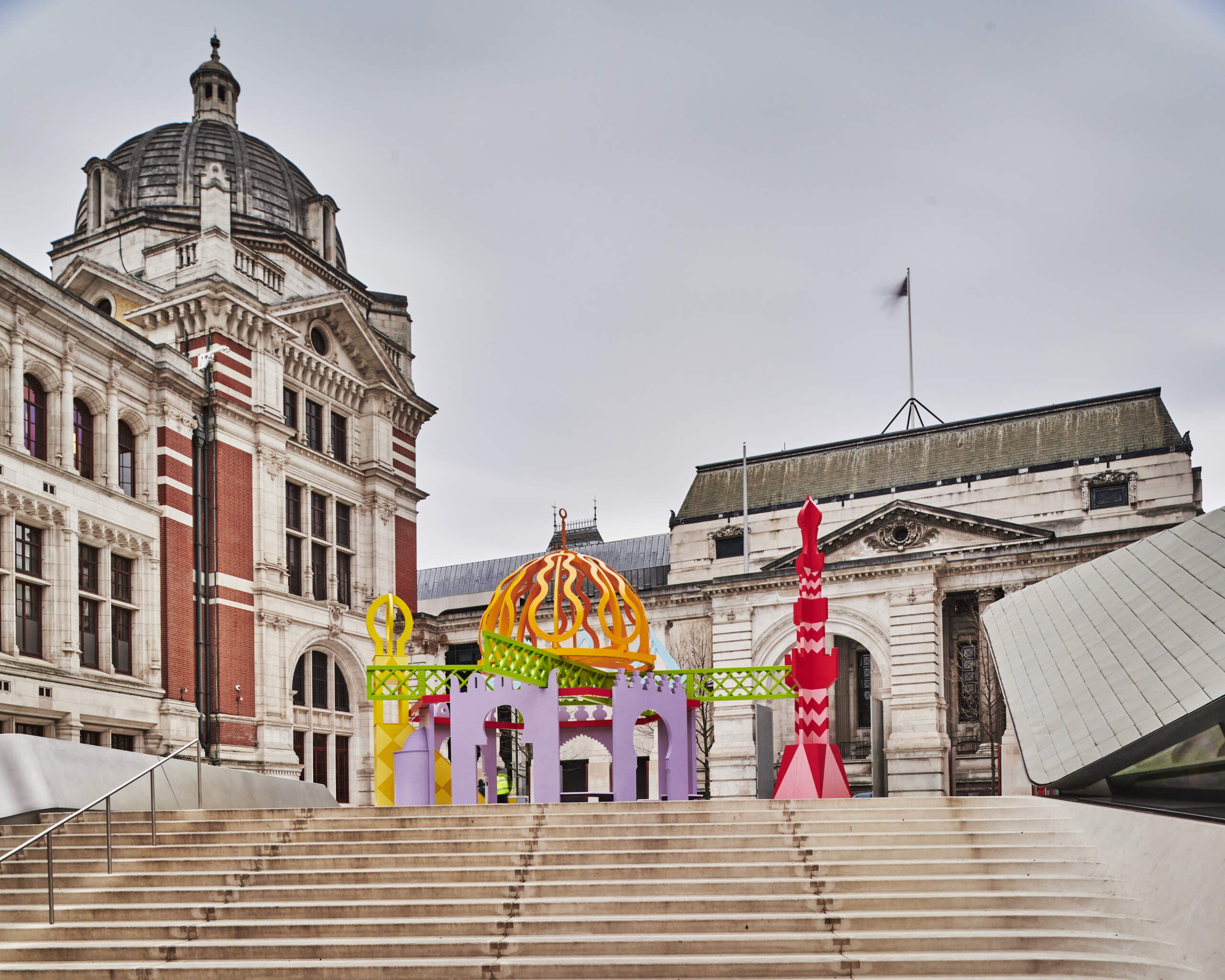 The Ramadan Pavilion is the world's first-of-its-kind purpose-built architectural structure. An annual showpiece of creative art, design and architectural experimentation inspired by the holy month of Ramadan. The Ramadan Pavilion is presented alongside a series of public programming focusing on arts and creativity, including events, workshops, performances, and Open Iftars.
Visit the Pavilion at the V&A Museum between 5th March 2023 – 1st May 2023.
Pavilion Programme
Every Ramadan Pavilion is accompanied by a vibrant arts and cultural programme that is open to the public and woven into the story and theme of the structure. The Pavilion serves as a gathering place for individuals of diverse communities, faiths, cultures, and backgrounds to come together and connect. These will include working with community-based artists, educators, curators, and cultural organisations.
The aim of the annual Ramadan Pavilion is to celebrate the lived experiences of Muslims across
the UK and globe during the holiest month of the Islamic calendar, and to bring attention to the
core values and traditions of Ramadan through architectural expression, experimentation
and an associated public arts and culture programme.
Ramadan Pavilion 2023
The inaugural Ramadan Pavilion, designed by Shahed Saleem, evokes an abstracted mosque.
The design draws inspiration from the V&A's Prints and Drawings collection to represent
the history of the mosque and images of Muslims in Britain.
Location: Exhibition Road Courtyard, Victoria and Albert Museum, South Kensington, SW7 2RL
Britain's first mosque pavilion was designed by Sir William Chambers and erected in Kew Gardens in 1762. It was not used as a mosque, but more as a showpiece that represented Islam as it was being imagined and orientalised through European invasion and colonisation.
The inaugural edition of the Ramadan Pavilion, envisioned by Ramadan Tent Project, offers the architect and designer Shahed Saleem's postcolonial response to Chambers' imperial vision.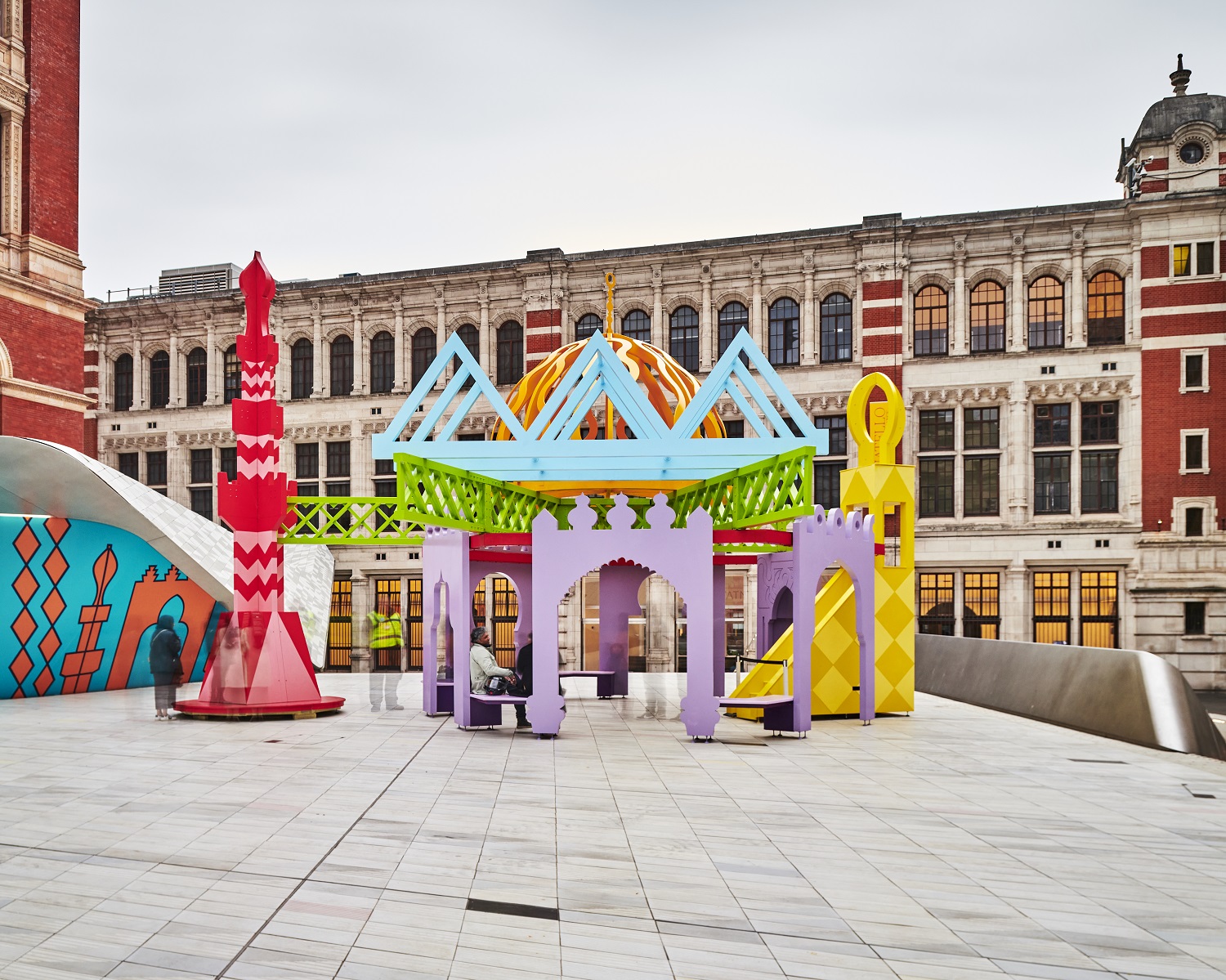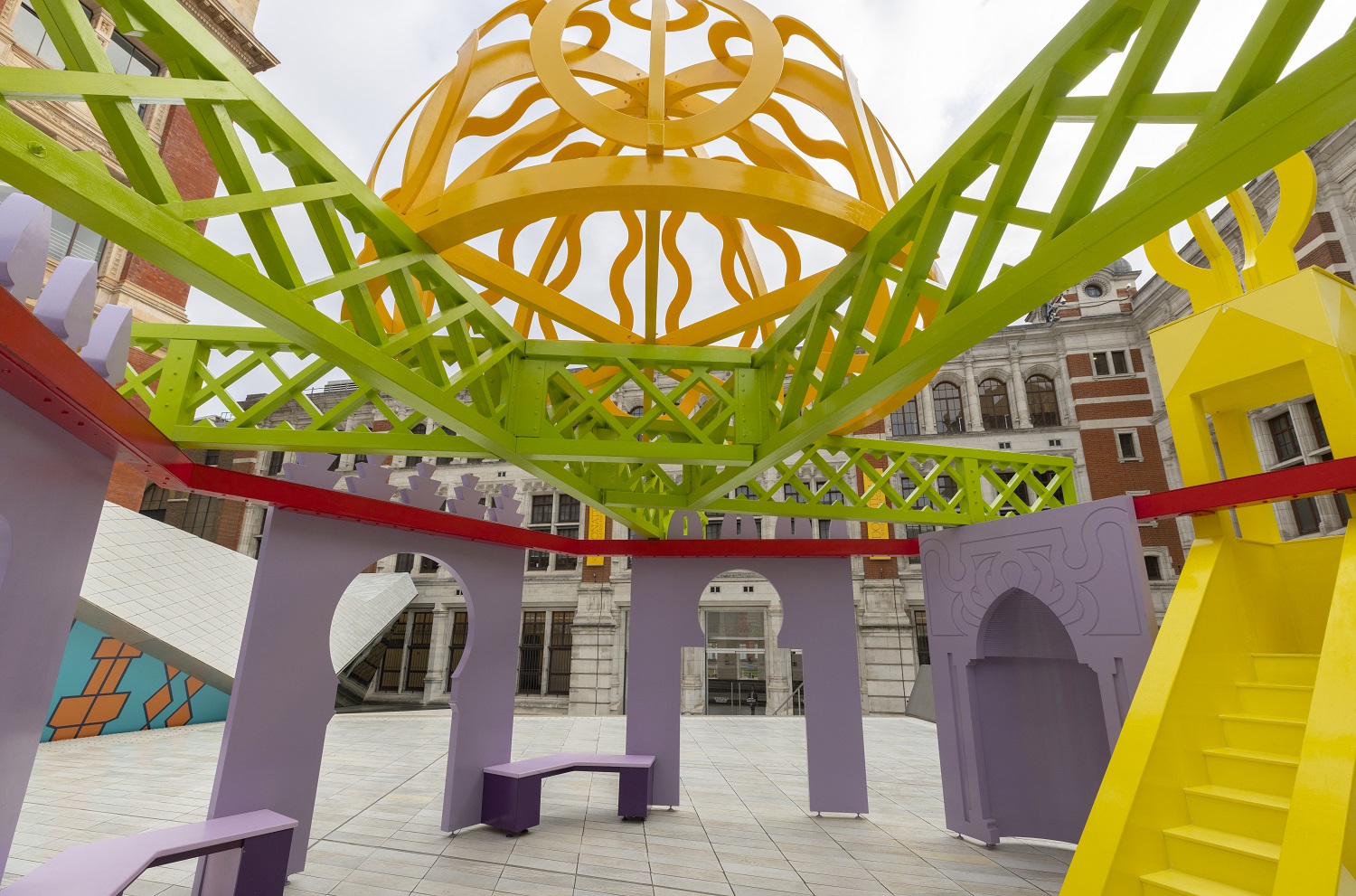 Islam continues to thrive in Britain today, and Muslims have established almost 2000 fully functioning mosques.
The 2023 Ramadan Pavilion is designed as an assemblage of architectural parts to reflect the way that British mosques have been built by our communities, where we reference various traditions of Islamic history through architectural symbols.
Entry: Free and open to all
By using the V&A's collection of drawings and photographs of Islamic architecture as its visual
reference, the 2023 Ramadan Pavilion asks the question: how do Muslims in Britain access our
histories, and how do we create our contemporary identities?
The 2023 Ramadan Pavilion celebrates that Muslims in Britain have rich, complex and
interconnected histories, and that despite facing structural obstacles and discrimination,
continue to persevere in generating creative, collective and vibrant futures.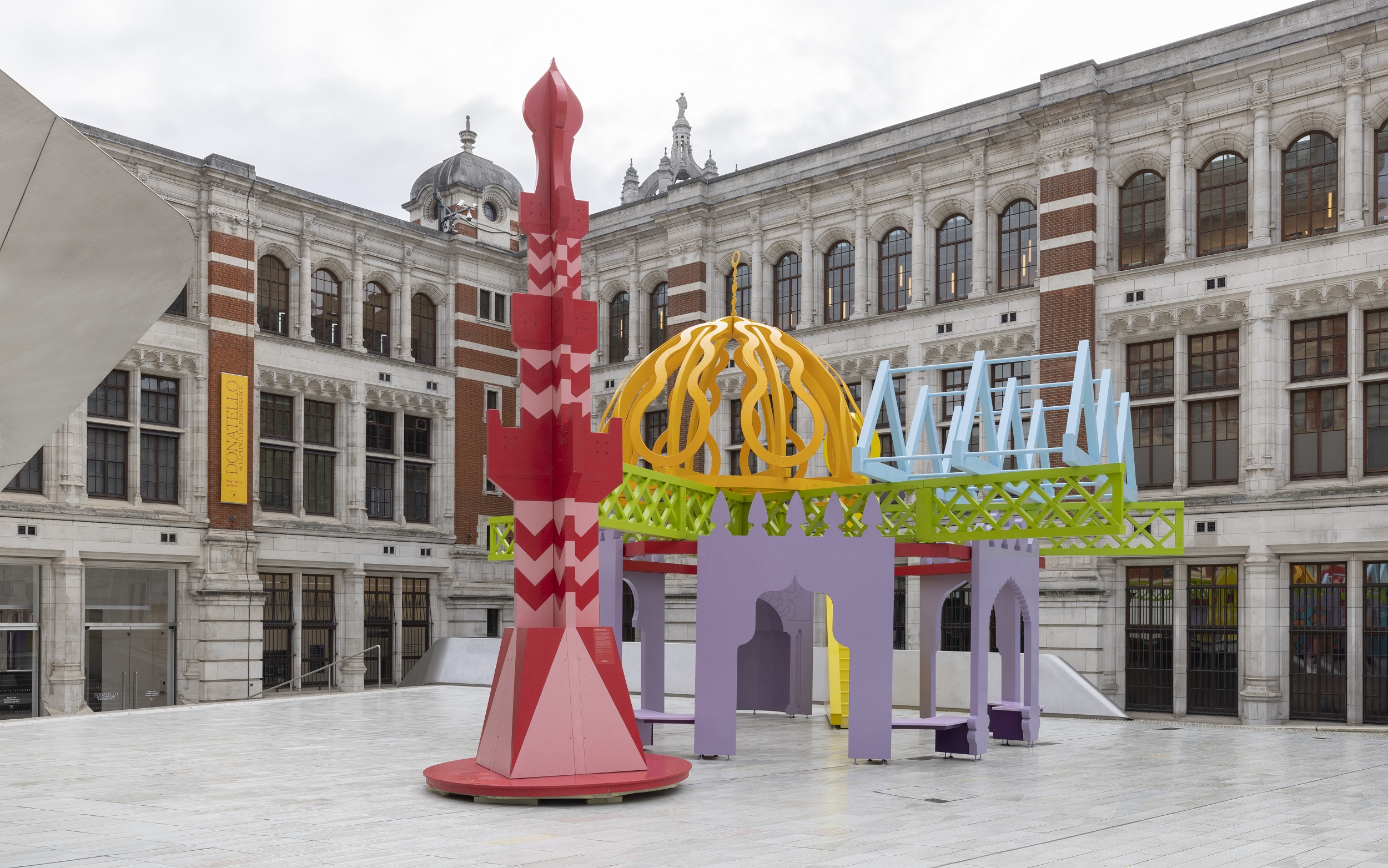 Architectural Design and Cultural Legacy
At Ramadan Tent Project we believe that our innovative and dynamic programs, which
blend traditional and contemporary Islamic arts and architecture, will foster greater
outreach, representation, conversation, and diversity. Structures like the Ramadan
Pavilion play an integral role in helping to illustrate the power of representation when it
comes to Islam and British Muslims in the public realm, and how important it is to question
the framing of how different people are represented.
The annual commissioned designs for the Ramadan Pavilion will present an interpretation each year linked to the wider theme of the annual Ramadan Festival, inviting the global community into a dynamic space to
pause, reflect, learn, and exchange.
We invite and welcome designs and concepts for the Ramadan Pavilion from artists, architects, and designers
of all backgrounds and levels of experience who share a passion for interdisciplinary traditional and
contemporary Islamic interpretations and practices.
For further details, email: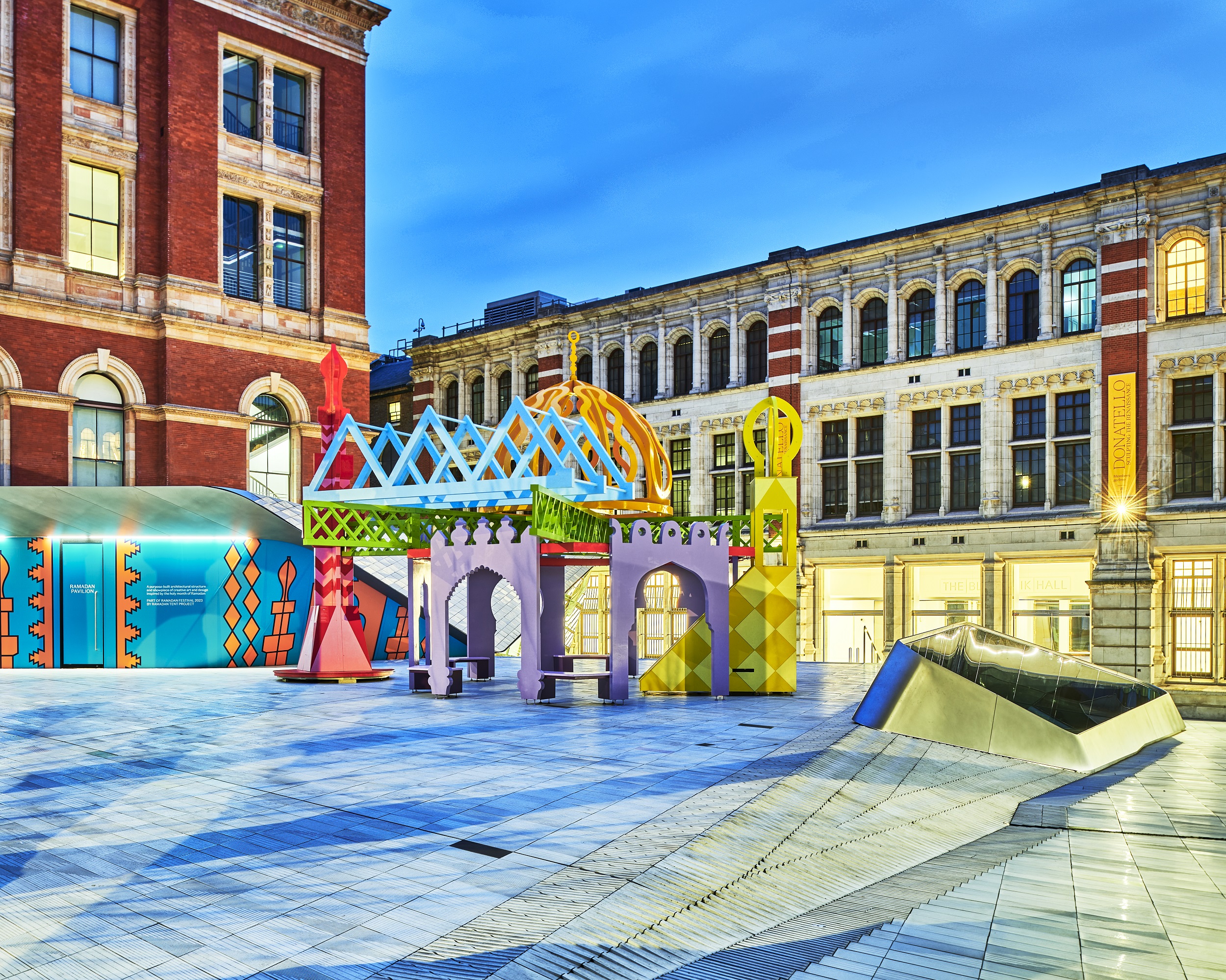 Visit the Ramadan Pavilion
Live period: 5th March 2023 – 1st May 2023
Entry: Free and open to all
Location: Exhibition Road Courtyard, Victoria and Albert Museum, South Kensington, SW7 2RL
Public Programming: Coming soon! Free and open to all. Tickets to the public programme must be booked in advance.
Further info: ramadanpavilion@ramadantentproject.com
RAMADAN PAVILION 2023 BY RAMADAN TENT PROJECT AND THE V&A
Designed by Shahed Saleem
Supported by The Diriyah Biennale Foundation
With additional support from COSARAF Charitable Foundation, the University of Westminster, RIBA, and AKT II