Sunday 5 March 2023 – Welcome Ramadan Conference at Victoria and Albert Museum kicks off Ramadan Tent Project's 2023 Ramadan Festival.
Welcoming hundreds of the British public to prepare for the holiest month in the Islamic calendar, Ramadan Tent Project (RTP) hosted 25 speakers and moderators who spoke on four key themes:
Spirituality and Ramadan

Charity and Halal Spending

Faith and Belonging

Culture and Ramadan
The conference began in the name of the Almighty, with the recitation of the Qur'an by 16-year-old Qari Yahya Ali. Qari Yahya recited from Surah Baqarah, verses 183-6. These verses remind us why Muslims fast in Ramadan, so that you may be mindful to God [2:183]. They highlight God's infinite mercy prescribing one who is not able to fast to be merciful on others For those who can fast only with extreme difficulty, there is a way to compensate- feed a needy person [2:184], God wants ease for you, not hardship. He wants you to complete the prescribed period and to glorify Him for having guided you, so that you may be thankful [2:185]. The final verse is a reminder of God's proximity, If My servants ask you about Me, I am near [2:186].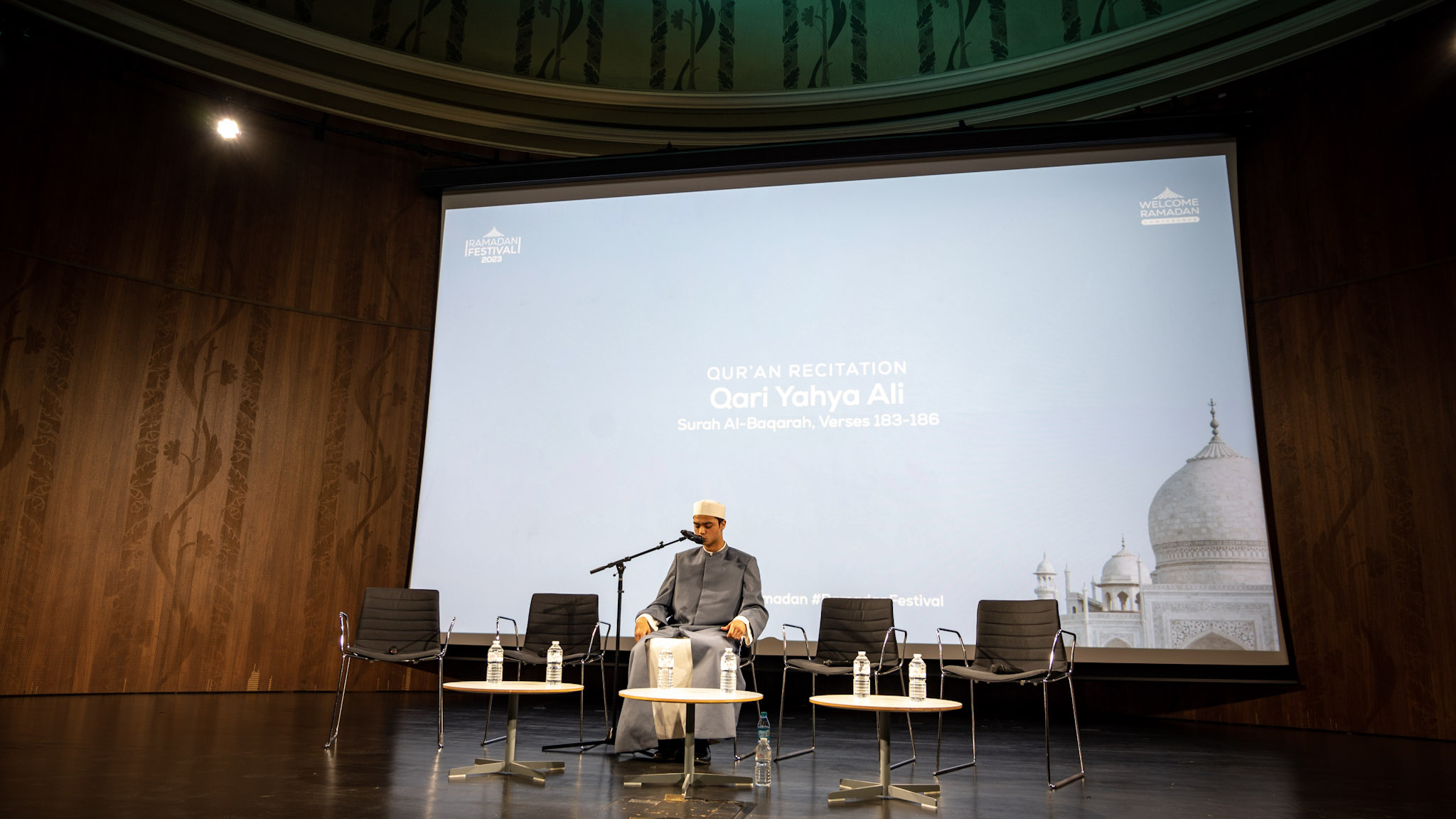 In the morning panels, chaired by Journalist Remona Aly, Dr Wajid Akhtar, Former Assistant Secretary General of the Muslim Council of Britain, Maaria Mahmood, Director of Muslim Youth Helpline and Islamic scholar, Sheikh Babikir spoke on Ramadan being a recharge for the soul and fasting being the only act of worship prescribed solely for Allah. Sheikh Babikir highlighted the generosity of the fasting community in Ramadan, a sentiment echoed by Zia Salik, Head of Fundraising at Islamic Relief UK, who noted that even during financial difficulty, the Muslim community think of giving Sadaqah. Salik was joined by Mehmet Asutay, Professor of Islamic Finance at Durham University aad Nizam Uddin, Chief Strategy Officer at Algbra, who spoke about the impact of spending on our spiritual wellbeing. We think about prayer and fasting, but we must think about managing our money, and where our money is going.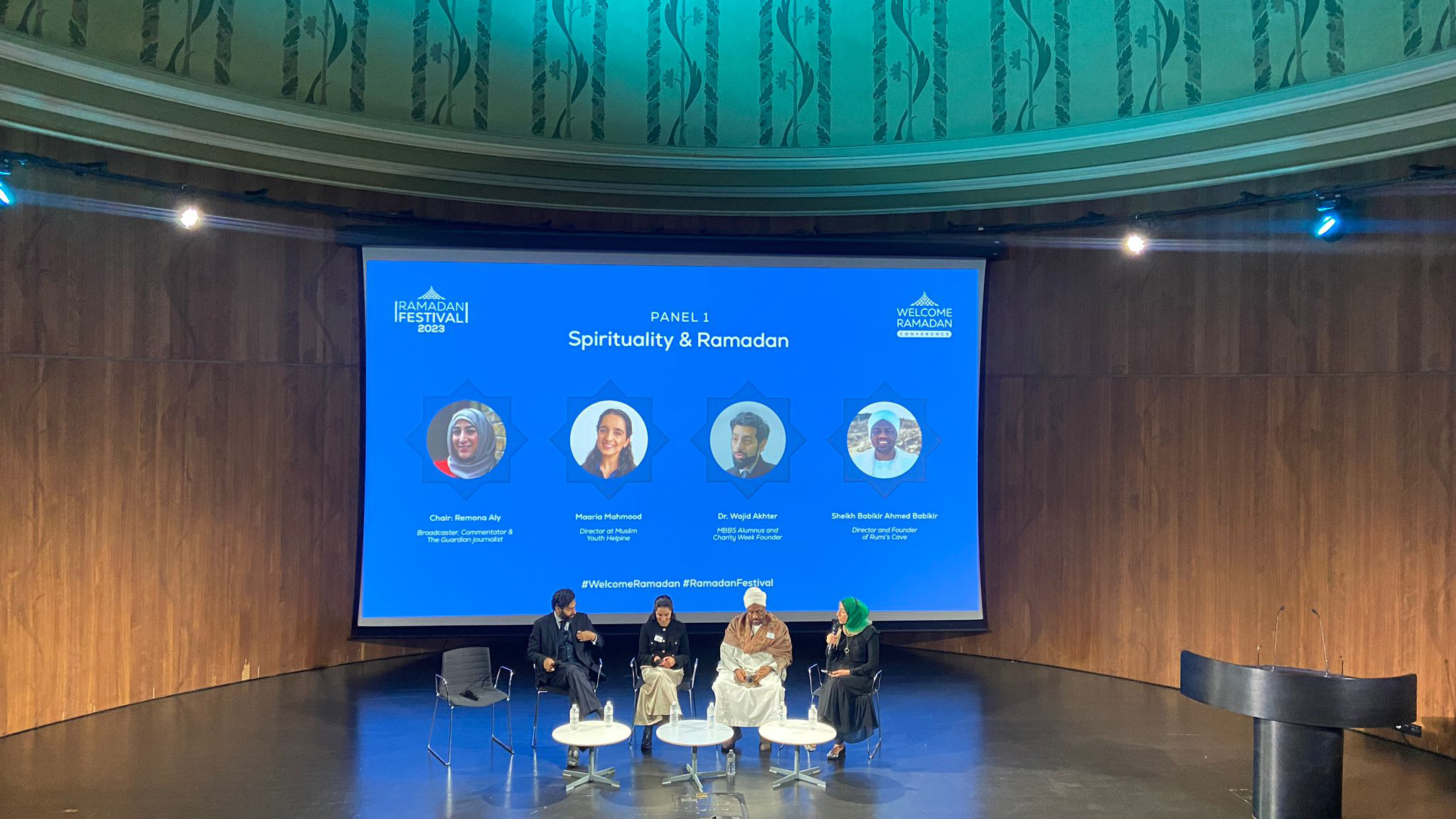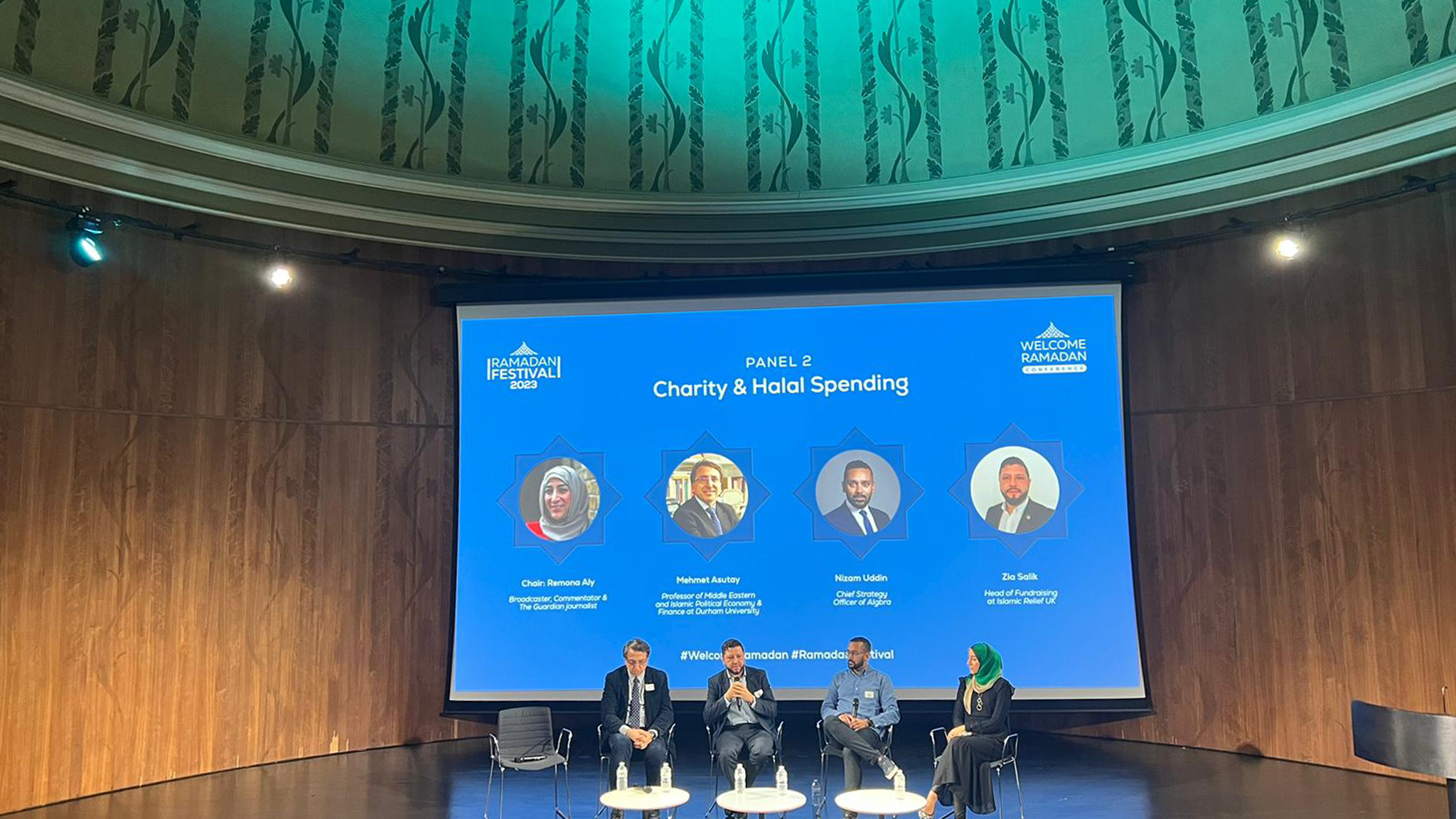 Ramadan Pavilion 2023
Sarah Joseph, Founder of Emel Magazine and member of the RTP Advisory Board, welcomed four keynote speakers to the lectern in the beautiful Lydia and Manfred Gorvy Lecture Theatre. Dr Tristram Hunt, Director of the V&A, Farida Alhusseini, Islamic Arts Biennale Director of Diriyah Biennale Foundation, and Haroon Sheikh, Chairman at COSARAF Chief Executive Officer of CareTech and Executive at COSARAF, spoke on their support of RTP's Ramadan Pavilion 2023 and the importance of the project locally and internationally too
Joseph spoke on RTP's 10-year anniversary, she said "a journey of a thousand miles begins with a single step, from SOAS to the V&A". A quote that aptly summarizes the growth of a simple idea, from the quad at SOAS to some of the country's most prestigious venues, and most loved landmarks continuing to welcome all.
Founder and CEO Omar Salha culminated the session with a focus on the theme of Ramadan Festival 2023, Belonging. He said, "In Arabic, the word for belonging is 'intimaa' and the root word is 'nama', which means to increase, yield, or grow. Perhaps then our understanding of belonging is not transactional or fixed, rather it is transformational. Our passion in bridging between different communities is rooted in sharing our authentic selves with the world. True belonging should not require you to change who you are – rather, it is to celebrate who you are."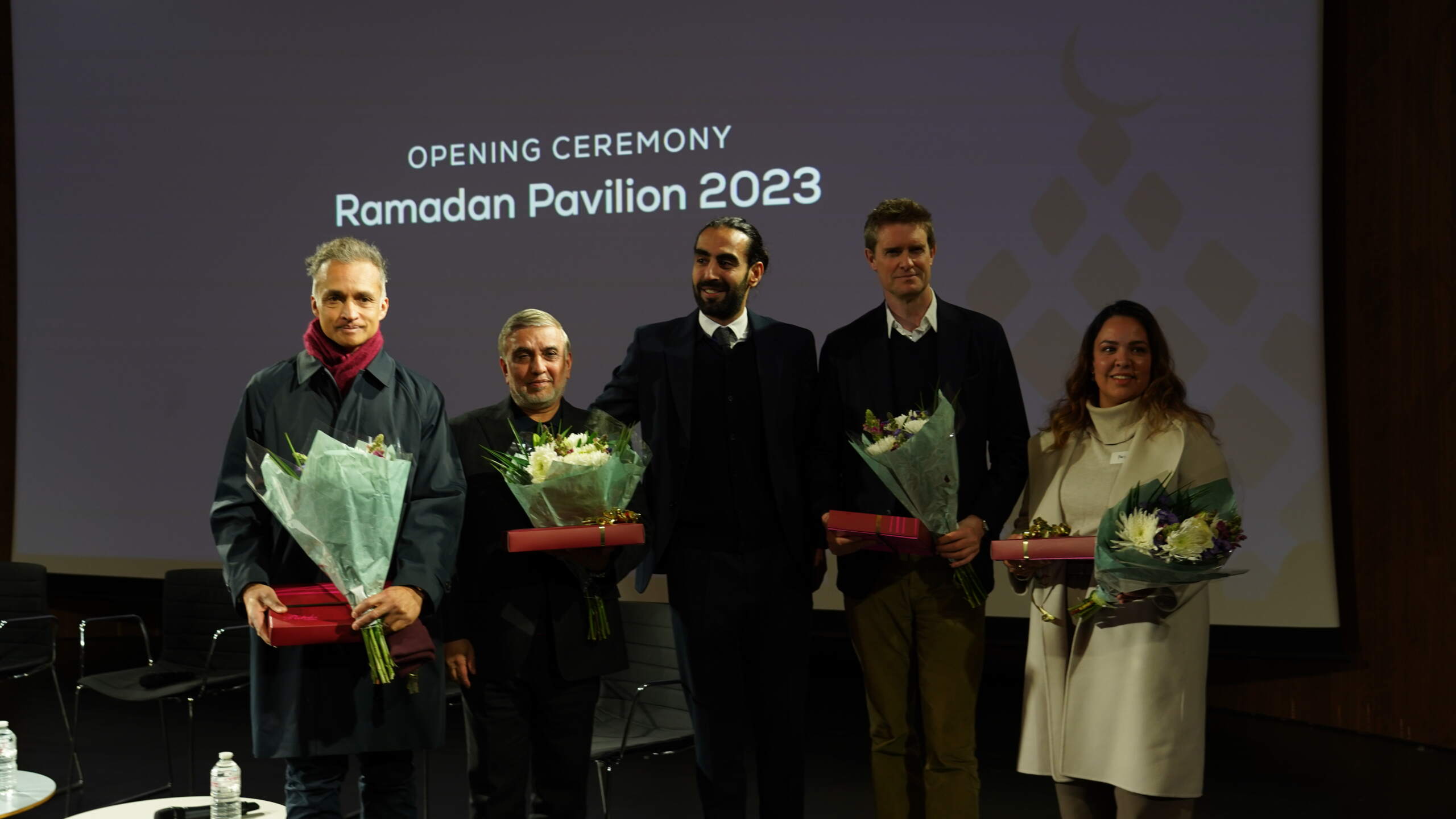 The conference audience as well as passers-by in the V&A and South Kensington were a part of history as the inaugural Ramadan Pavilion 2023 was officially opened. 2500+ hours after work on the Pavilion started, the teal ribbon was cut in front of the filled Exhibition Road Courtyard. Sheikh Babikir lead a dua for success and for the Pavilion to be a means to continue to bring communities together, ending with a group recitation of the first chapter in the Qur'an Al Fatihah, The Opener, The Key. The wonderful WAW Creative Arts choir debuted a piece on Ramadan, written specifically for the opening of the Pavilion. Qari Yahya gave the first call to prayer on the mimbar before Sheikh Babikir lead the first salaah at the mihrab.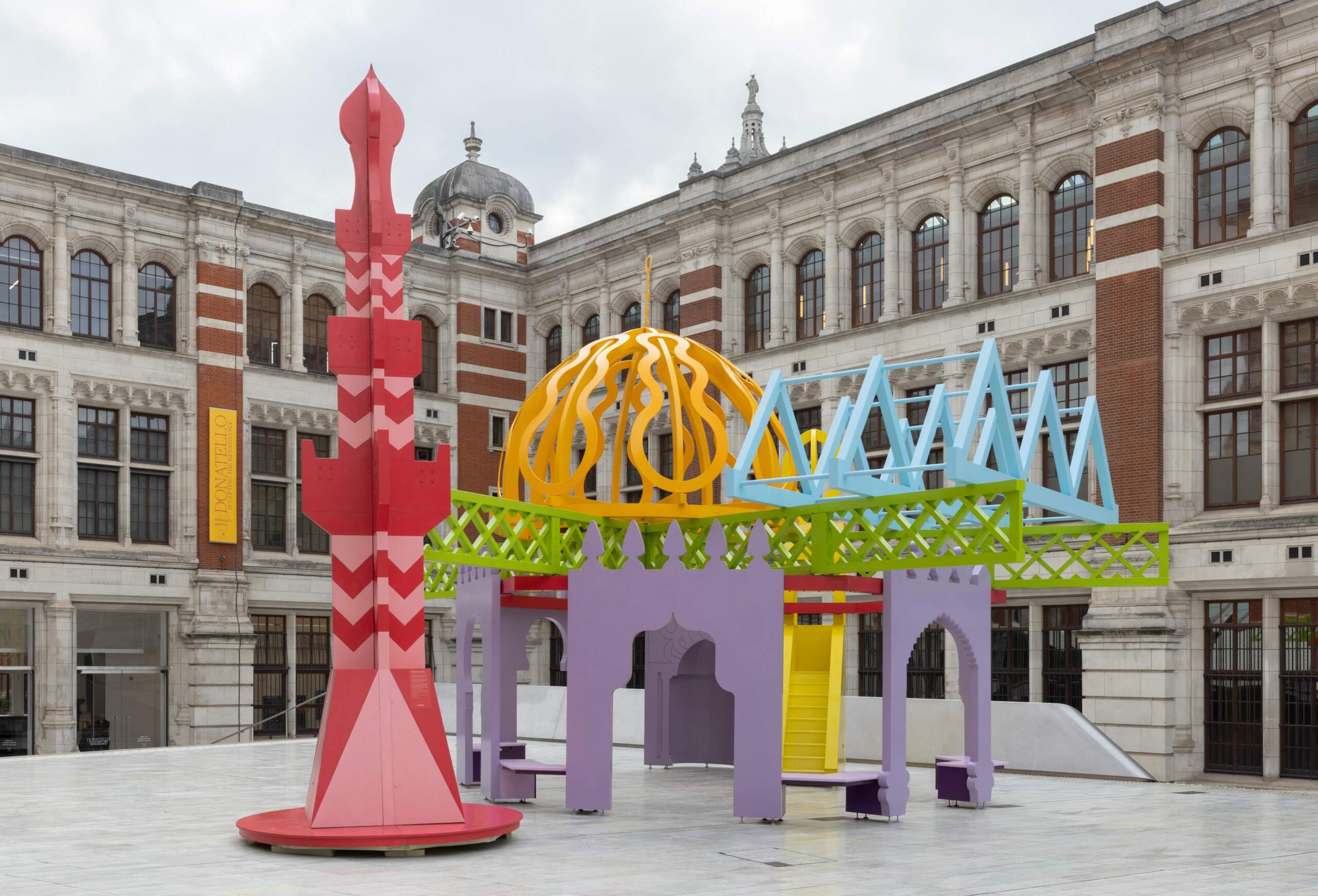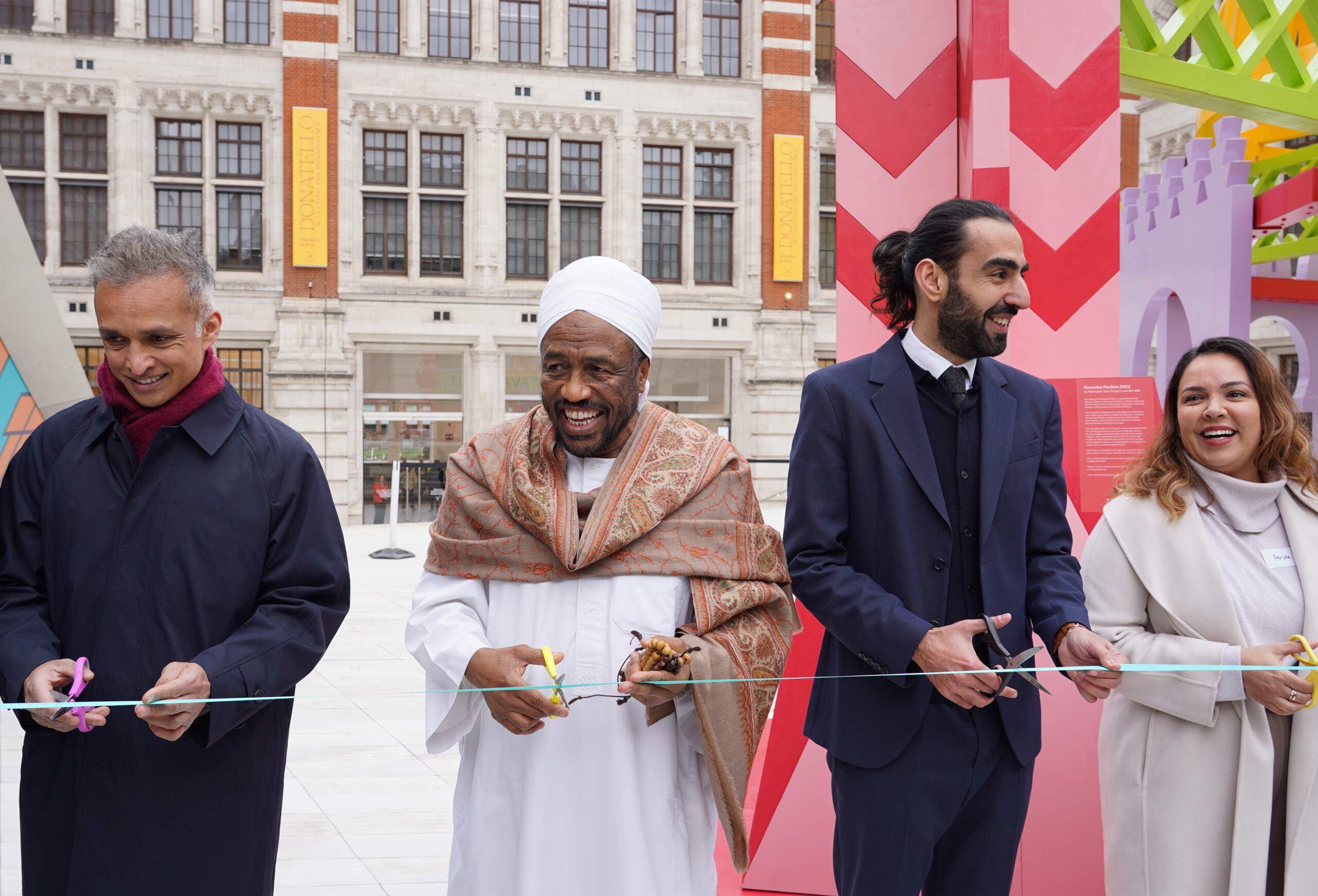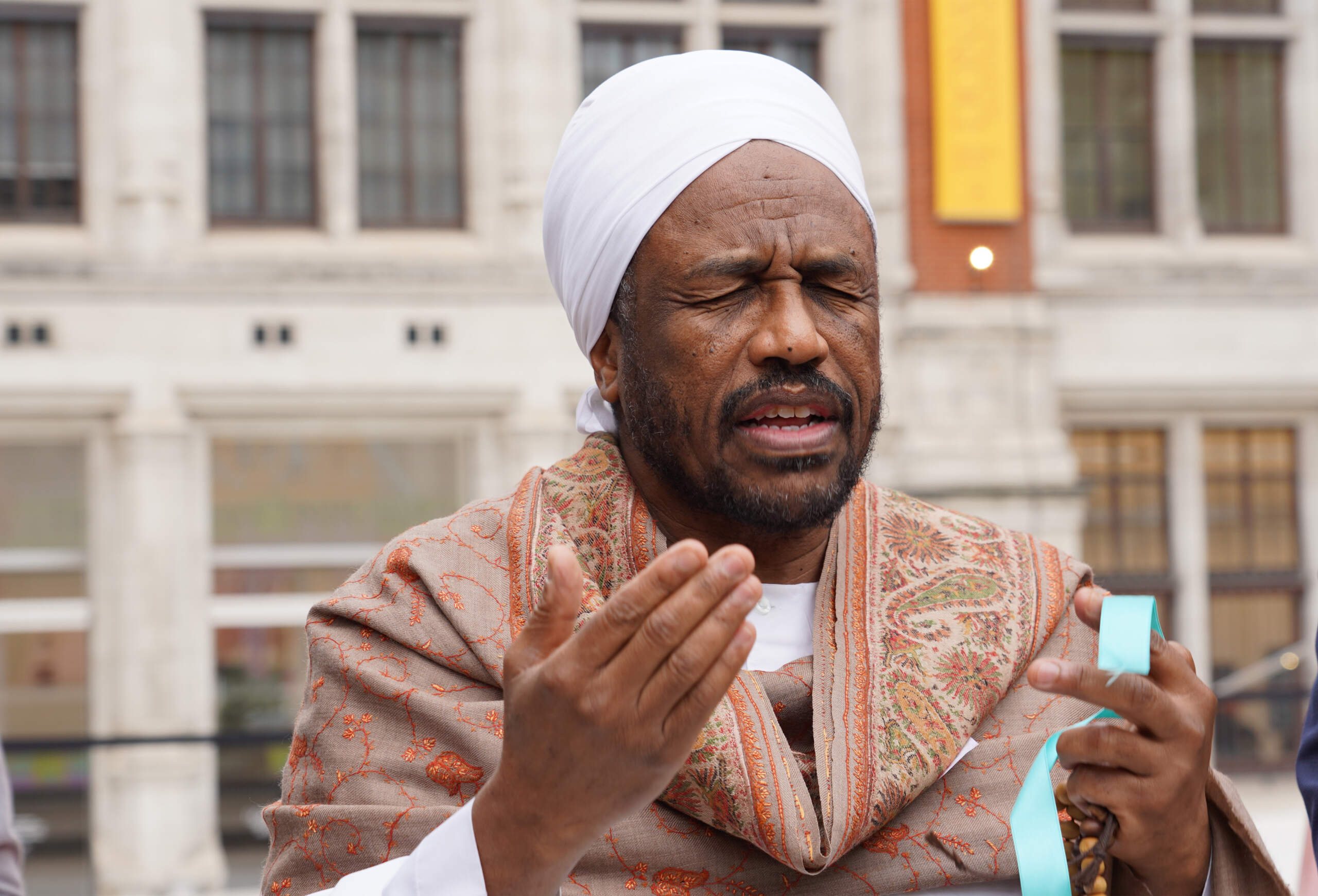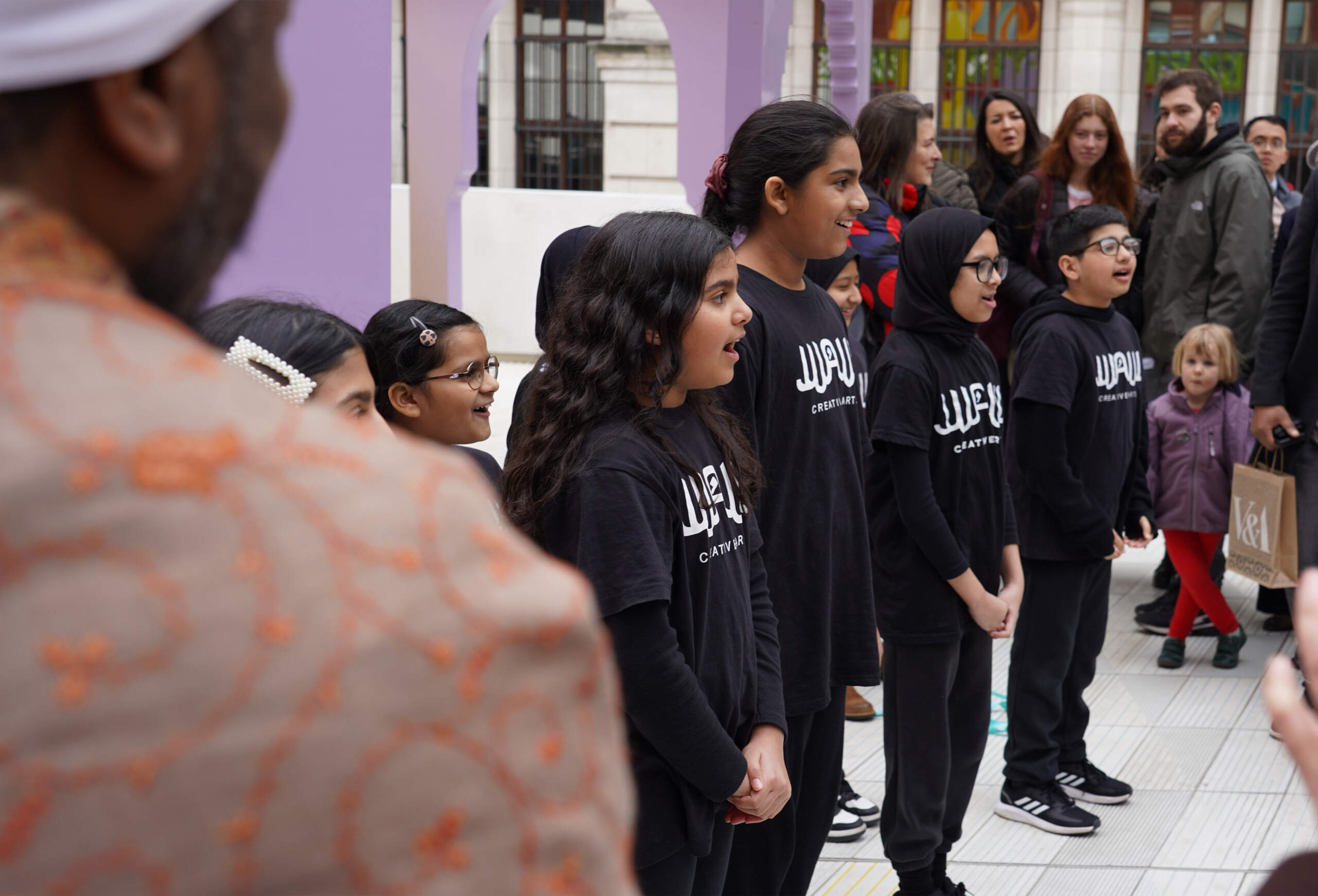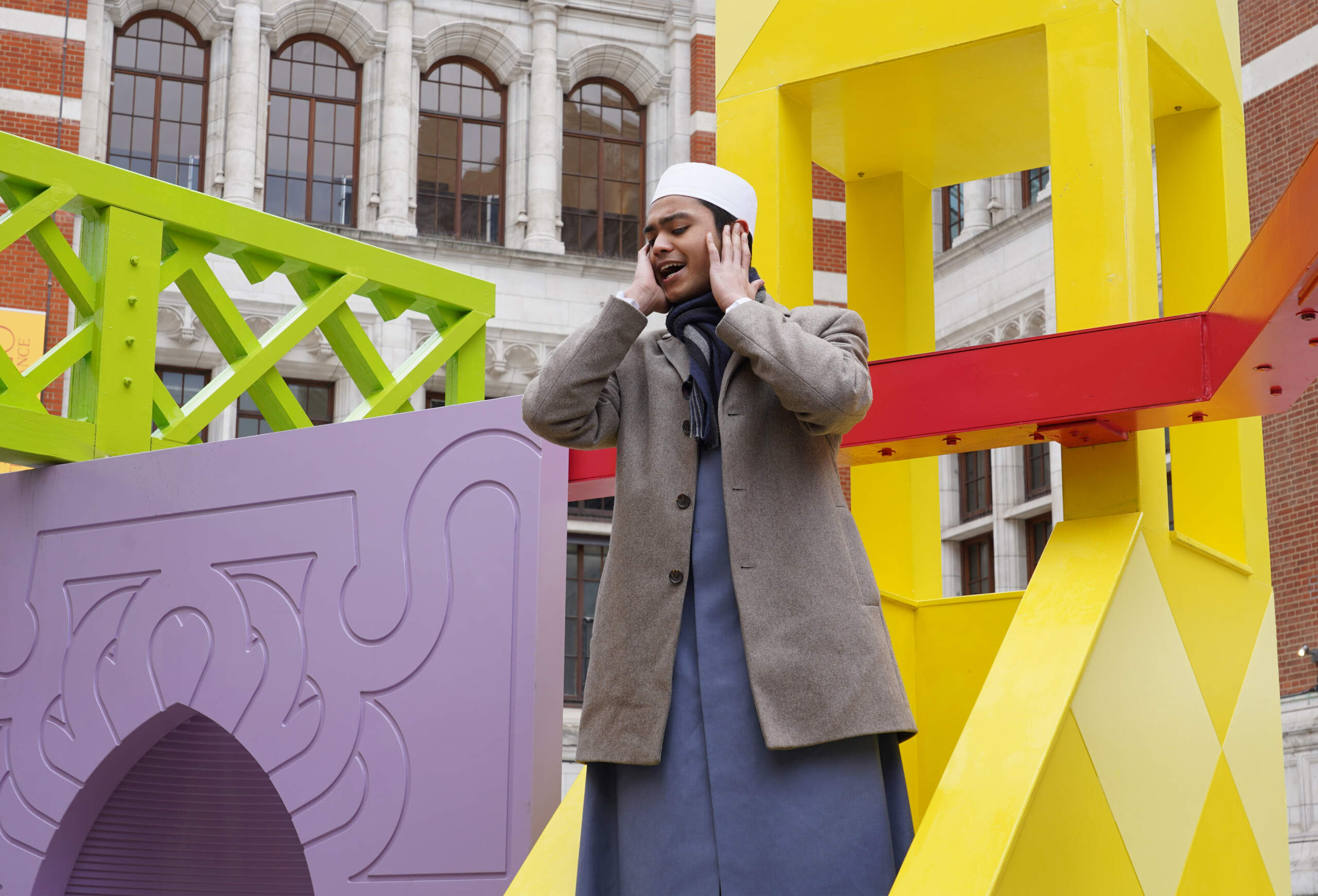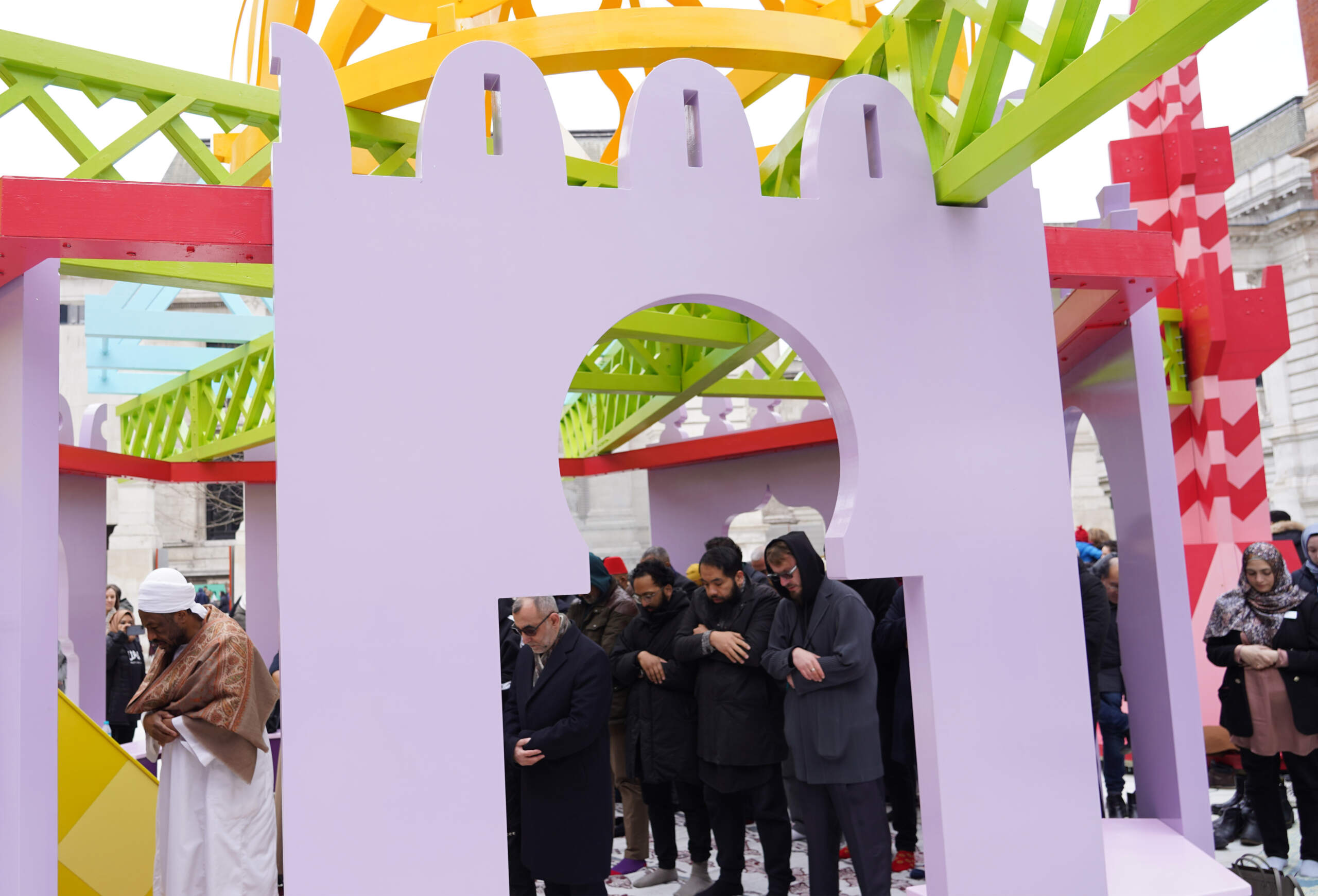 The audience returned to the Lydia and Manfred Gorvy Lecture Theatre to hear more on the Pavilion from V&A's Dr Chris Turner, Keeper of Art, Architecture, Photography and Design at the V&A, Dr. Omniya Abdel Barr, Barakat Trust Fellow, V&A, Ramadan Pavilion 2023 architect and designer Shahed Saleem and RTP's Ramadan Festival Coordinator, Atika Dawood. The panel touched on the inspiration behind the final structure, what this means for British Muslims and the British public at large and the architectural and cultural legacy envisioned by RTP, celebrating 10 years and looking onto the next 10.
The afternoon panels focused on a community of communities, celebrating our differences. The first of the final two panels was chaired by Dowshan Humzah, Independent Board Director, Strategic Advisor & Creative Consultant and member of the RTP Advisory Board, titled Faith and Belonging. Siobhan Anderson, Senior Programmes Coordinator, Workplace & Community at The Faith & Belief Forum, Haroon Sheikh, Sarah Joseph and Rabbi Natan Levy, Head of Operations for Faiths Forum for London, spoke about the differences that unite us before Asma Khan, Chef and Founder of Darjeeling Express and member of the RTP Advisory Board, Rashidat Hassan, CEO of Deen4Reel Communications CIC and Dr Mehmet Karakus, Director of Yunus Emre Institute in London, highlighted the different ways in which Ramadan is celebrated across the world. Chaired by Shelina Janmohamed, Author and Vice President of Islamic Marketing at Ogilvy UK. The discussion included the power of food as a connector, with a focus on how we can make our tables longer to host more – may the Open Iftar continue to grow and host our ever-growing community.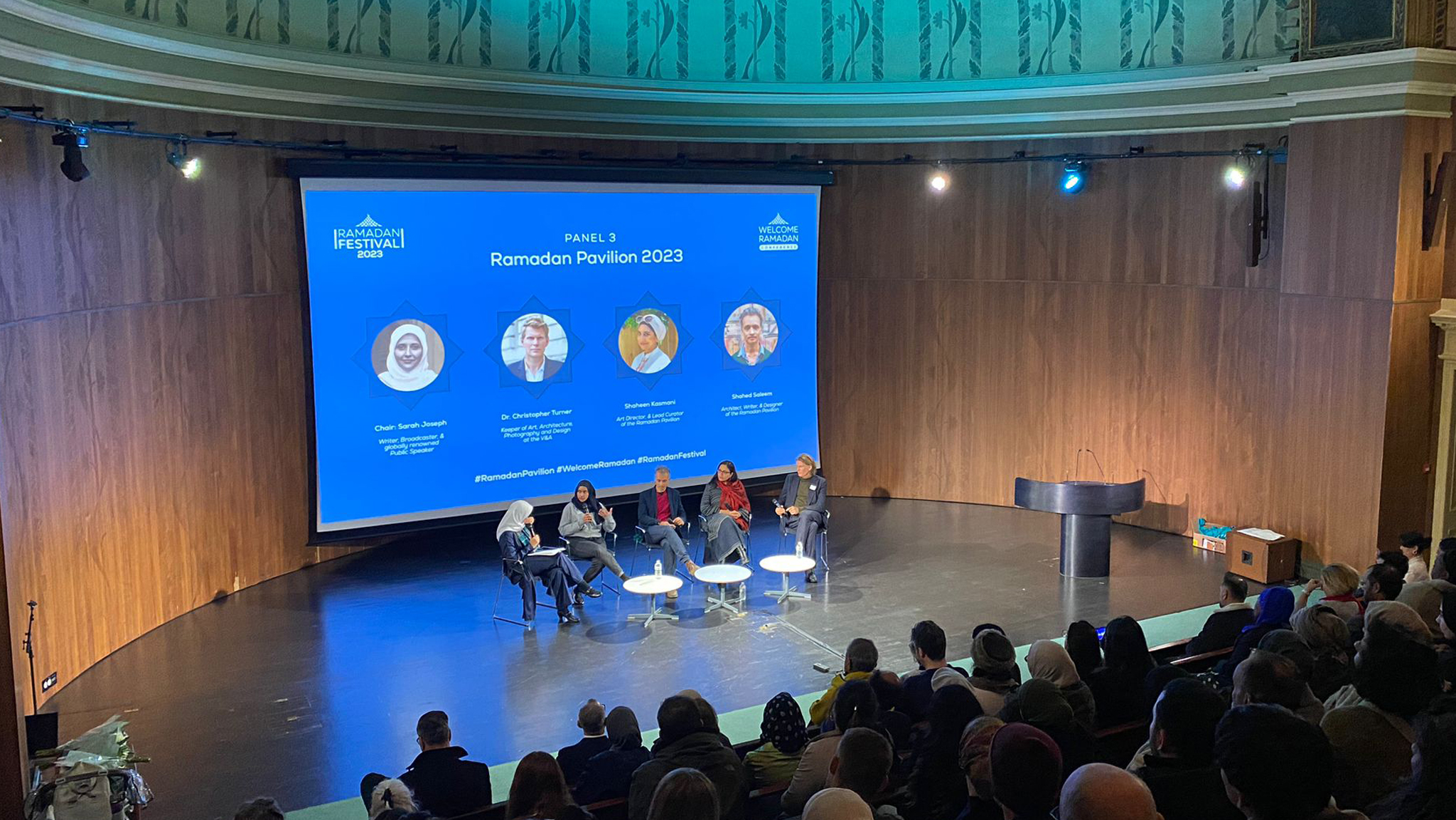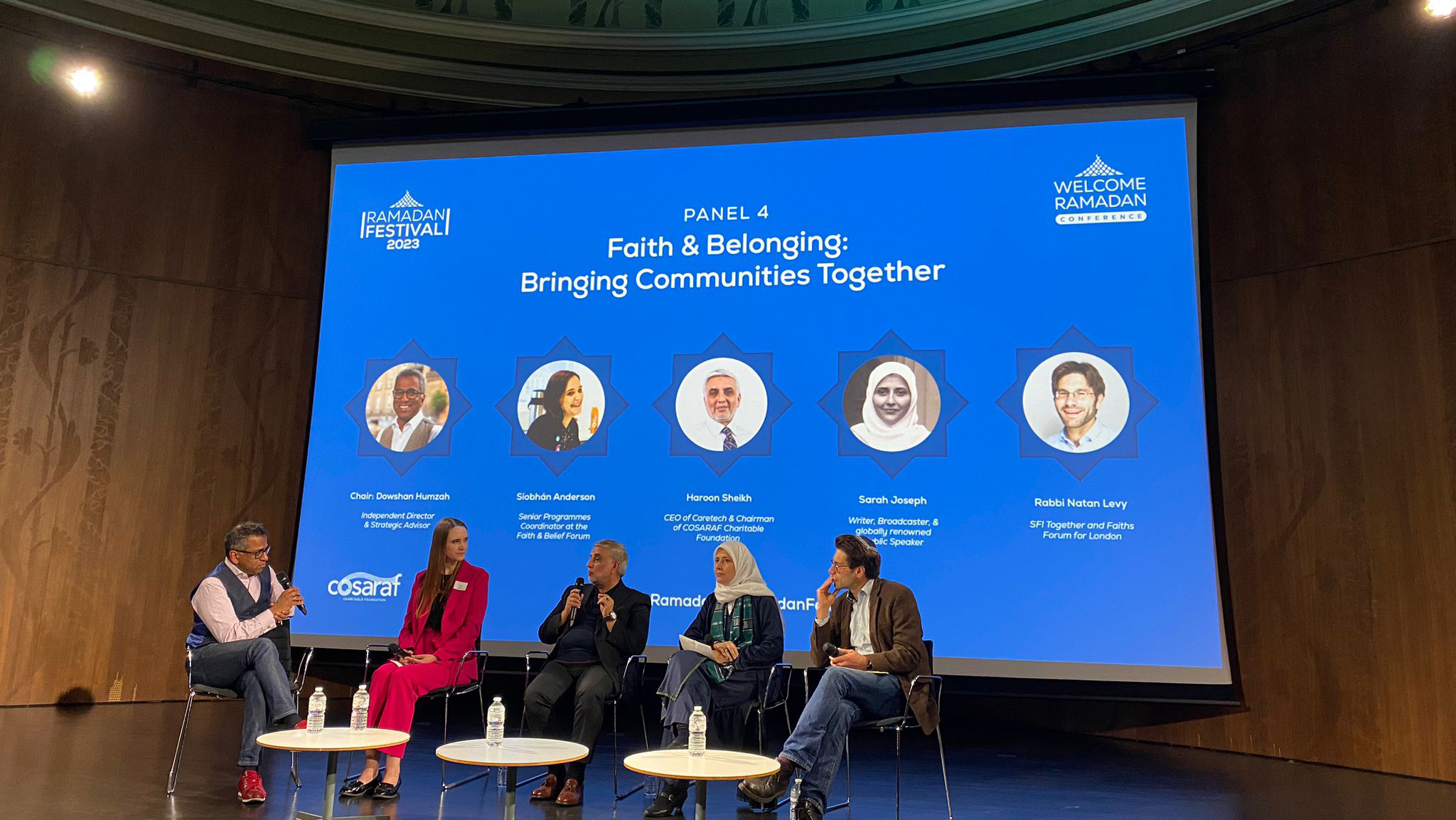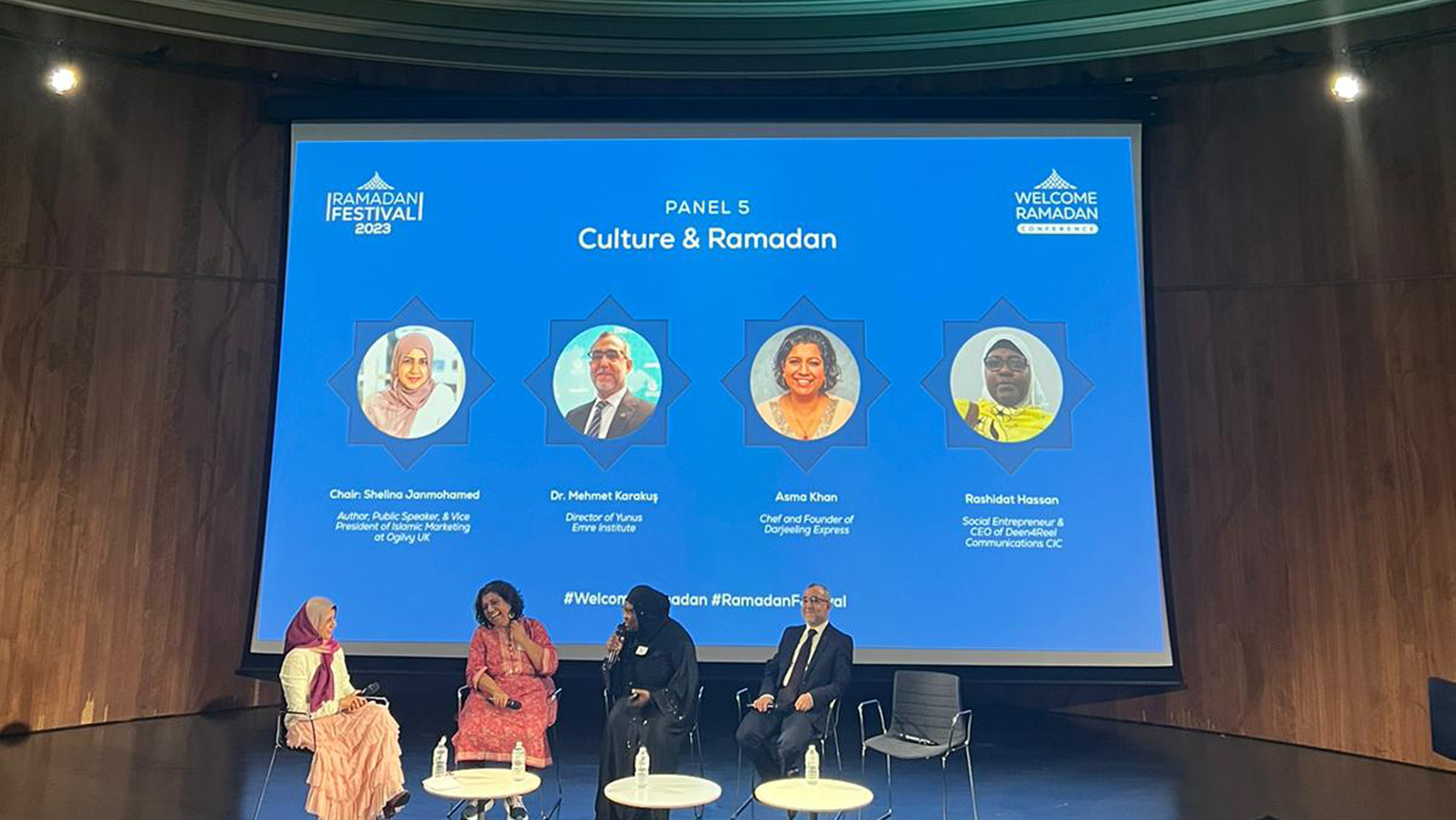 The Welcome Ramadan Conference launched Ramadan Festival 2023. It was a day that was truly a celebration of belonging with the opening of Ramadan Pavilion at the V&A. It was a reminder that, for the past 10 years, RTP has welcomed all to share their authentic selves with the world – celebrating who we are, not changing who we are.
The conference was just one of five activations programmed under the Ramadan Festival 2023. The inaugural Ramadan Pavilion is now open for all to enjoy and engage with, until May 1st. The beautifully curated My Open Iftar packs are ready to pre-order, they are filled with bunting, balloons, recipes and everything you might need for a festive Ramadan and Eid. Our Open Iftar events will be announced very soon, be sure to subscribe to our mailing list to be the first to know which venues we will be at this year. Ramadan Lates will be retuning this Ramadan; join our virtual discussions that take place on Instagram Live.